We are always grateful when local Realtors introduce clients to Hensley Custom Building Group. Recently, Peg Groene from Huff Realty suggested Hensley to buyers she was working with.
"This is their dream home," Peg says of her clients, who have made building a custom home a goal for many years. "They wanted a builder who would be receptive to their floor plan."
From her previous experience with Hensley Homes, Peg knew it was a good fit. "Hensley wouldn't stick them in a box."
Peg, who has been working as a licensed local Realtor since 1996, says these clients were very selective. "They were definitely looking for a wooded lot that would fit the home they had designed." At the top of the clients' "must have" list was a four-car garage, so a wide lot was necessary.
Choosing RiverCrest for a Custom Home
Peg helped her clients find the perfect site in Rivercrest, a development of custom homes in Maineville, Ohio, that's been the site of Homearama.  After meeting with the Hensley team and finalizing their plans, the clients' construction is now underway.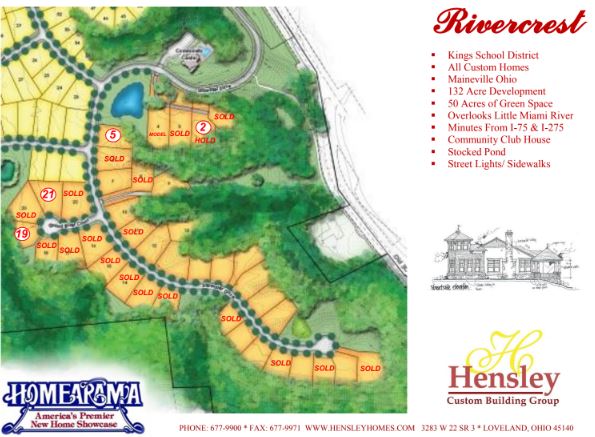 Peg approaches the search for land with clients by asking the right questions. Topography as well as other characteristics are important. "Is it flat or rolling? Is it wooded? Is there water? Is the location exactly what the buyers want?" Of course, it's also critical to find a lot that can accommodate the size of home the buyers envision. "These are all important decisions to be made before choosing the lot to build on," she says.
What makes building a custom home go smoothly? According to Peg, it's planning ahead. "You want to have a really good idea of what you want," she advises. "If your heart's set on a ranch with a front porch, you've already narrowed down your choices, which will save you time."
Peg's goal with all her clients is to provide professional guidance through the complex process of real estate transactions. She aims to "sweat the small stuff" so her clients don't have to. "I frequently say I'm the pilot; we may encounter a few bumps along the home buying and selling journey, but my job is to make sure we land smoothly."
To find out more about Peg and her services to clients who want to build a custom home in Cincinnati, visit her web site. To see currently available lots in Rivercrest, click here.