Modern farmhouse style appeals to many. Even people who don't want a home on the range or 40 acres and a mule love the look. Designing and building a custom home gives you the opportunity to create a modern farmhouse.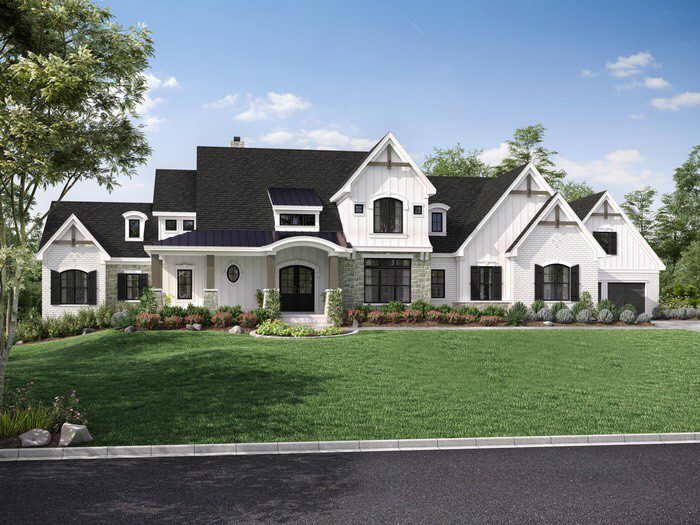 To bring the look home, consider these design essentials:
Exterior Details
You can choose wood siding, shingles or even brick, but stick to white if you want a true modern farmhouse look. Plan for a welcoming front porch. Large windows bring plenty of light indoors. Choose black window frames for that high-contrast look on the exterior. You might consider a metal roof, too.
Color Palette
Whites and neutrals are a hallmark of modern farmhouses. Lighter tones of blue, gray, pink and yellow can mix in, as well.
Kitchen Selections
Not surprisingly, a farmhouse sink is a must. Strive to keep the kitchen as light and airy as possible. White cabinetry and countertops work well, although dark colored base cabinets can also be included. Glossy white subway tiles reflect light and create a neutral, bright backdrop. Choose clean-lined appliances. Fixture finishes that work with the style range from warm to high-contrast: Consider chrome, copper, brass or matte black.
Make space in your home's design for an oversized farm table. An open floor plan that allows people to gather together is at the heart of modern farmhouse style.
Showcase the Old
Don't emphasize the "modern" part of modern farmhouse style too much. As you plan your home, add in the old, too. Look for places to include rustic wood, like a barnwood-paneled wall, sliding barn doors or wood posts or beams. Antique pieces with an aged patina blend perfectly with the look. Salvaged cabinets, furniture, doors or architectural accents reinforce the style.
Create Your Modern Farmhouse
For even more on the style, take a look at this article from Signature Hardware.
---
Looking for Floor Plan Ideas?
With custom homes each floor plan is unique to the owner. However, several plans have been so loved that they have launched several new ones. Download our top plans of all time. Get inspired today.
Ready to Start Your Custom Home Conversation?
Don't just dream of a modern farmhouse; make it a reality! We'd love to hear about your custom home vision. Call us today.