Eating outside can bring a brand-new sense of beauty to any dining experience. Whether you're enjoying a meal with family, friends or by yourself, finding a good spot to bask in the summer weather while enjoying a delicious meal is the perfect way to spend time. What's your favorite for Cincinnati outdoor dining? A local restaurant or your very own backyard?
Let's talk about some of the best eating spots in Cincy, and ways to make your custom home a 5-star outdoor venue.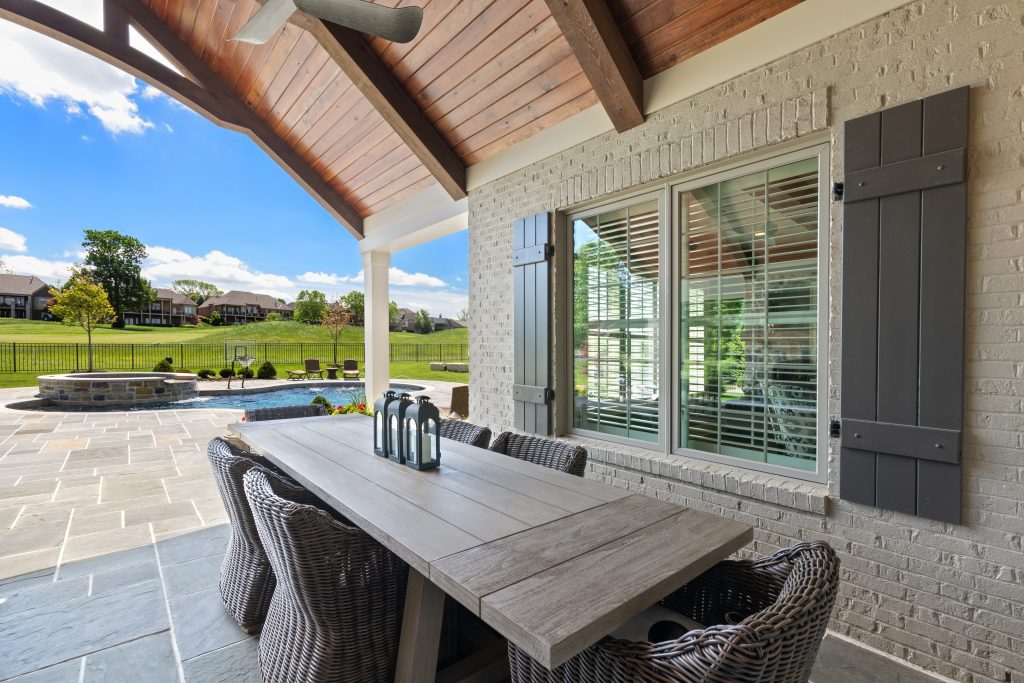 Outdoor Dining in Cincinnati
Looking to soak in the sights, sounds and tastes of Cincinnati? We've got you covered! Head to these spots for an amazing summer dining experience.
Located on the top of a hill with panoramic city views, Incline Public House is the perfect place to spend your time outdoors. Whether you'd like to enjoy a sunny lunch or have dinner under the night sky and gaze at the city lights, the menu is filled with comforting classics like pizzas, sandwiches and salads for any occasion. Their 1400-square-foot deck can seat up to 60 people, and provides some of the best views you can find in Cincinnati.
For a luxurious rooftop dining experience: Shires Rooftop
Shires Rooftop is exactly what it sounds like: a gorgeous rooftop restaurant serving quality eats to enjoy up above the city. With a bar inspired by flavors of the season, and an "elevated yet approachable" menu, this dining experience provides a sense of luxury like no other.
For dinner and live music: The Summit
The Summit serves you both delicious food and magical memories, as it hosts live bands and events all week. The Overlook Kitchen & Bar has cocktails and dishes made fresh with local ingredients, and outdoor views you'll never tire of.
Fifty West has it all: a delicious menu, a packed schedule of fun events and opportunities for outdoor fun like pickleball, cornhole and more. Their shakes and floats will cool you down on a hot day, and you can watch some sand volleyball while waiting on your food. Outdoor dining doesn't get much better!
Outdoor Dining at Home
The perfect outdoor dining experience doesn't have to take place at a fancy restaurant. Savor your delicious, home-cooked meals while people watching, having good conversations with loved ones or taking in the beauty of nature. With these tips, you can enhance the al fresco dining experience right in your custom home's backyard.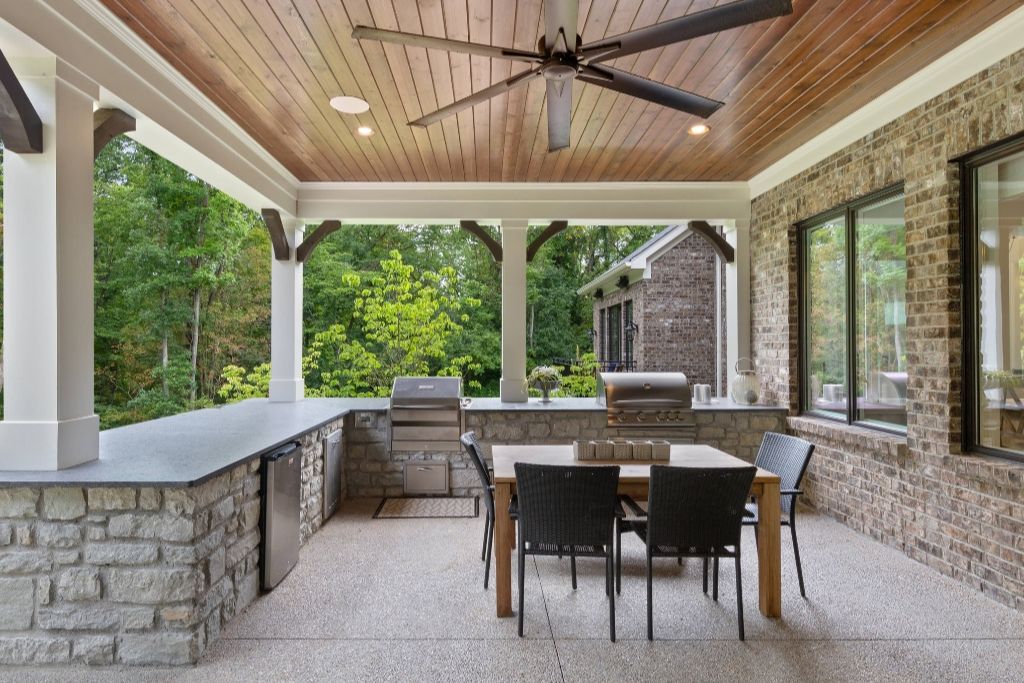 Design a Charming Patio
To make your new outdoor dining area pop, look for outdoor furniture that creates a fun and comforting spot for your family and friends. As you select a table (or tables) and chairs, think about how many people you will typically entertain. Would you rather have one large table or several smaller ones for more casual groupings?
With your furniture selected, you can begin to gather decorations like plants, rugs or accessories to coordinate the space. Don't forget lighting: An outdoor chandelier or table lamps in your dining area will add a homey touch. String lights, lanterns and candles can make the atmosphere feel warm and inviting: the perfect space to enjoy a meal.
Have a Picnic
Love to picnic? Consider creating your very own picnicking spot at your custom home. It would be a fun way to take full advantage of every inch of your yard. Once you have the spot chosen, consider casual seating or lush grass that will be perfect for under a picnic blanket. Bonus points if you bring in the beautiful sight and sound of a water feature or fountain.
Now, gather your favorite transportable foods, a blanket and some of your close friends or family members on a sunny day, and head outside. Even the meal prep process can be a fun experience: Have each guest bring their own foods to share or prepare everything together. Bring refreshing beverages, like a bottle of wine or pitchers of homemade lemonade, to compliment your food.
Grill Outdoors
The summer is the perfect time to break out your grill and start cooking delicious burgers, steaks and more. As you design your new custom home, let us know if you'd like to include a fully outfitted grill island or outdoor kitchen. Now add a refreshing pool or crackling fire pit and you have the makings of a perfect Cincinnati outdoor dining experience.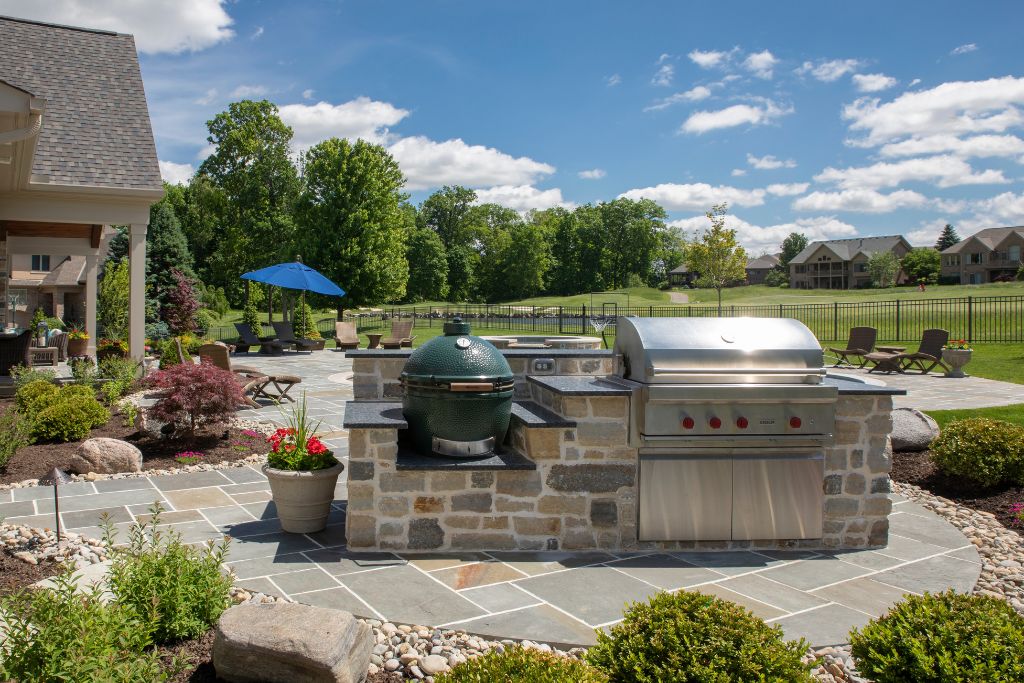 Choose Your Adventure in Cincinnati Outdoor Dining
Take advantage of the summertime and enjoy quality meals with those you love most as much as you can. Spending a day enjoying good food with good people may be just what you need to beat the heat. Whether it's at a restaurant in the city or at home, you'll make lasting memories to relive every summer.Fortunately, this Cincinnati outdoor dining doesn't have to be restaurant-exclusive: If you're dreaming of the ultimate dining space outside a new custom home, contact us. We'd love to hear your ideas.