Fall in Cincinnati is a great time to play golf. Sadly, once winter hits, most golfers put the clubs away. A home golf simulator is a great way to work on your swing straight through until spring.
Our custom home clients who play love the idea of making room for a golf simulator. Planning ahead when designing a custom home makes it easy.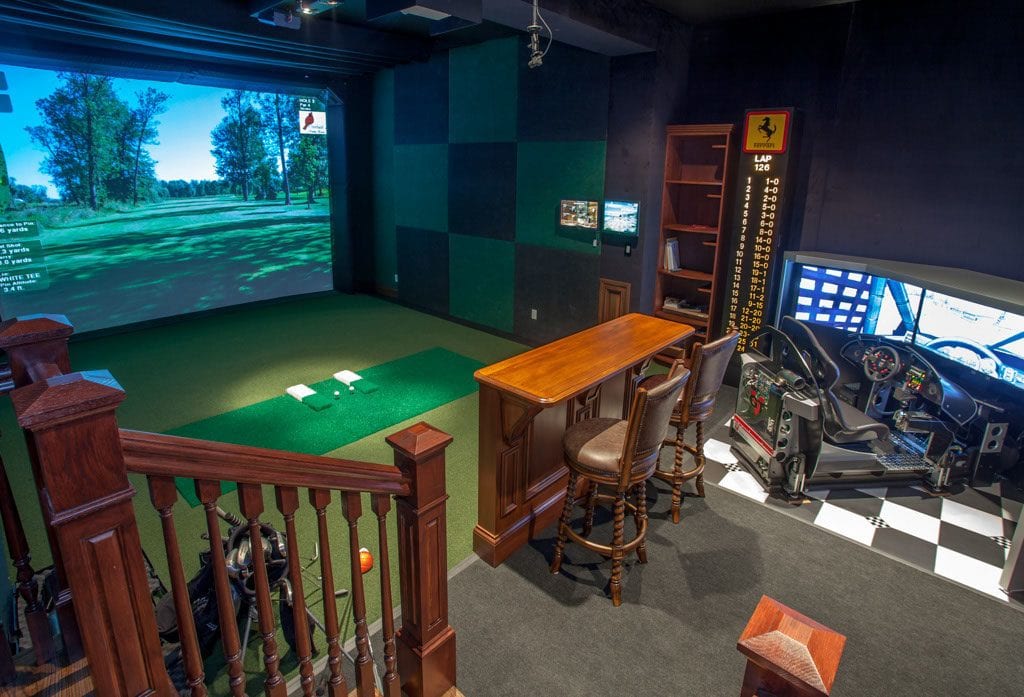 Golf Simulator Equipment
Setting up your practice area at home doesn't require tons of equipment. What you spend for the necessary components will depend on your preferences. Overall, a simulator can fit nicely into a finished basement space, garage or even outdoors.
At a minimum, you want a space with at least 15 feet from the tee area to the screen. A 10-foot-wide area with 10-foot ceilings allows you to take a full swing. If you're building a custom home, talk with your builder or designer about designating space.
Other equipment you will need:
A simulator system that works with your computer. Simulators give you the feel of playing a real course. Some can provide golf swing analysis. Also, if you'd like to play against others, look for a multi-player system.
Projector and screen: To create the wrap-around feel of golfing outside, the screen should be large. Choose a screen that can withstand the impact of a ball or protect the screen with a net.
The mat for the tee area may come with the simulator.
Netting or padding is essential if you plan to hit real golf balls.
Beyond the Basics
In addition, you could add a few extras. Options that are nice to have include:
A rack for your clubs.
Foam balls or a simulator with a "no ball" option if your space is limited.
An enclosure to keep balls from straying too far.
Nearby seating for spectators.
Along with creating a fun golf experience, the projector and big screen can work as a home theater set-up. As always, we love to hear your custom home ideas. Contact us to talk about golf simulators or any other amenities.