Ahhh, Valentine's Day, the day we turn to thoughts of hearts… We're not talking about the ones full of chocolates. Quite the opposite: we're talking about the one that keeps you alive. Did you know a custom home gym can help keep your heart (and the rest of you) healthy? Learn more about designing a home workout space. 
In the current climate, the home workout space has taken an even more important place in our everyday lives. With that in mind, it is smart to design one that works for you and your family. A home exercise space eliminates a few common excuses to skip the workout. The two biggest killers of good exercise habits are lack of convenience and boredom.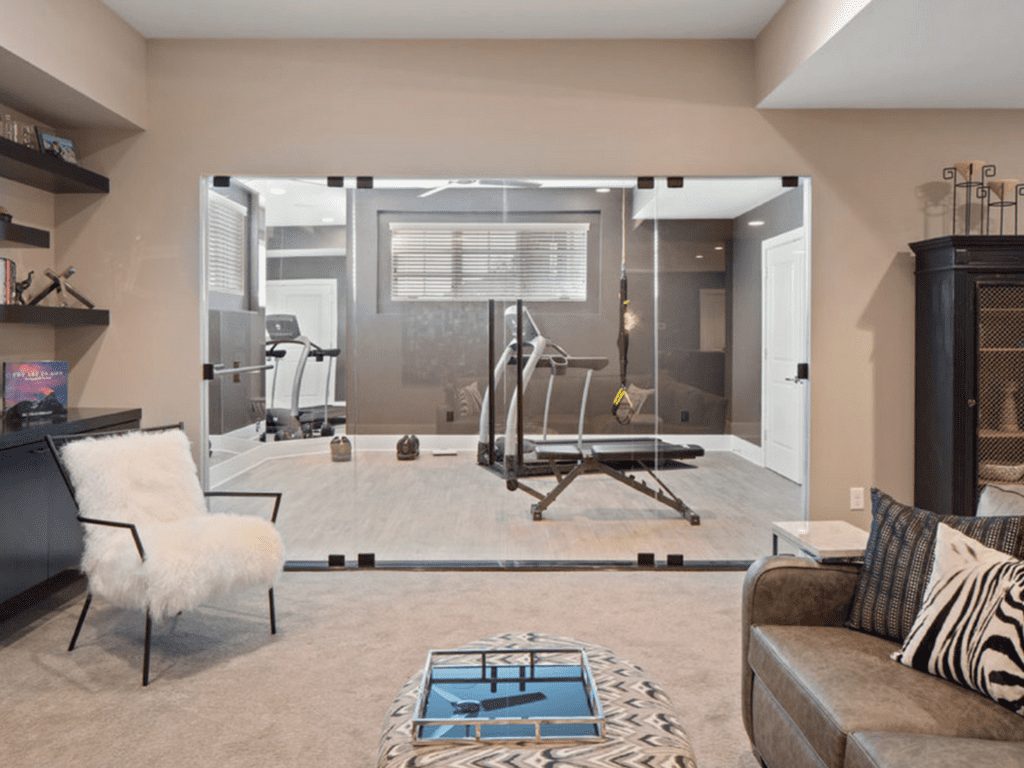 Factors in Designing a Home Workout Space
Equipment: There are so many choices out there for today's home exercise enthusiast. From a treadmill, to an exercise bike, to Mirror, to free weights, to a yoga routine to streaming workout videos online. Include a variety of choices of workouts, because there is no quicker way to kill motivation than a boring routine. The type of equipment you'd like to include will affect the room's desired size, so plan ahead.  
Air circulation: When designing a home workout space, consider ventilation. A vent or window is optimal. At the very least, consider an air purifier for the room. The purifier will keep the room fresh and welcoming to all members of the family who want to use it. Air Doctor is just one example of a compact and quiet model. 
Natural light: Nothing beats natural light coming through a window in a home gym. But if that isn't possible, consider recessed lighting with soft yellow light. Fluorescent lighting or harsh halogen bulbs tend to make skin look sallow and can discourage you from working out. You want to feel good about the way you look in your workout room, so give your motivation an extra kick with well thought out and properly colored lighting. Plan to make the lighting dimmable, too. Dimmed lights can make watching an on-screen workout easier or create a pleasant environment for yoga or meditation.
A wall-mounted television. Nothing makes the workout time pass faster than watching a show or movie while running on the treadmill. A screen also allows you to stream online workouts. Our clients appreciate the help of Legacy Custom Entertainment to equip their new homes with all the necessary audio visual equipment. 
Audio speakers. Integrated speakers that you can connect to an iphone or computer are the way to go when designing a dedicated home workout space. With built-in speakers, you can play your favorite music to get you through those tougher workouts.
An oversized mirror. It's natural to be apprehensive about installing a mirror, but it is helpful to check your form. And seeing how you are shaping up over time is motivating. Our glass supplier can offer options for your home gym mirror. 
Flooring. Flooring is also an important consideration when designing a home workout space. Choose something that's easy to clean and doesn't trap odors. Exercise mats help avoid slipping and provide extra cushioning for sit-ups and push-ups. And each family member can have their own mat. 
Storage. Be sure to allow for racks, hooks, shelves or bins for storing equipment like weights, mats or towels. Discuss your options for built-in or stand alone storage pieces with your designer while planning your custom home.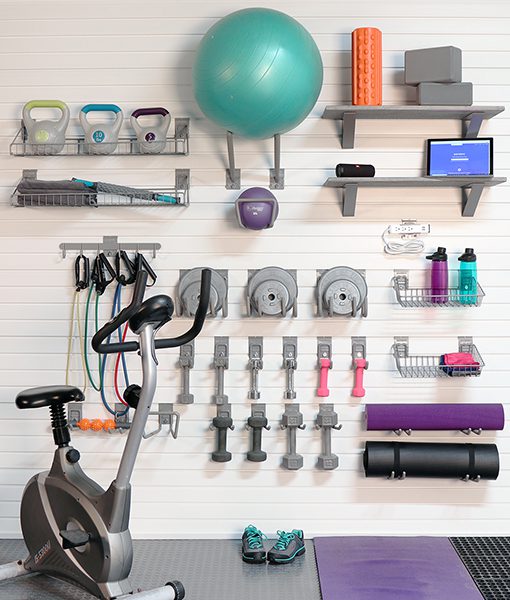 A white board. Use a white board or wall calendar to schedule workout routines or chart your progress. Of course, you should give yourself gold stars or check marks for completed workouts! Staying motivated is the name of the game. And if other family members use the room, too, a little competition on the board can add to the fun.
Location and Designing a Home Workout Space


How visible your home gym is to the rest of the house is a matter of personal preference. Would you rather tuck it away on a lower level? Or maybe you'd be more motivated to use it if it was near the master suite? Would you like your home gym to have easy access to a pool or outdoor space? Think about what has worked for you before and discuss the room's location with your designer. 
Having a dedicated space in your home makes it harder to talk yourself out of working out. How can we help? At Hensley Homes we love guiding clients through every decision in the custom home process. Call us to talk about your vision. We can't wait to hear from you.