As you consider the design for a new home, it's worthwhile to take a look at top master bath trends. You'll notice designers, real estate agents and homeowners discussing the pros and cons of tubs vs. showers. And there is plenty of eye candy along with new color ideas.
 
Tub, Shower or Both?
The latest 2020 U.S. Houzz Bathroom Trends Study showed that half of homeowners renovating their master bathrooms are leaving out the tub. Since this statistic comes from renovations, it could be that space limitations are forcing these owners to choose: It's a situation that most new construction homeowners can avoid.    
But, even with a brand new custom home, it's worthwhile to think about how you want to invest in your master bath. Sculptural stand alone tubs are eye-catching and make beautiful focal points in a bathroom. A soaking tub can provide a spa-like experience right at home. 



An oversized shower with seating, multiple shower heads and body sprays can also offer a pampering experience. Curbless showers are popular with people interested in aging in place or universal design. If you want to choose a luxury shower for your master bathroom and leave out the tub, that's your call. The beauty of a custom home is you get to design to suit your lifestyle and taste.  
If you want both a tub and shower, here's a fresh idea: One of the top master bath trends is to combine a gorgeous tub with an oversized shower in a "wet area" of the bath. This area may be open, enclosed or semi-enclosed with glass or walls. Flooring, walls and fixtures in a wet area are designed to stand up to moisture. Heated floors and good ventilation can help clear excess humidity after a shower or bath.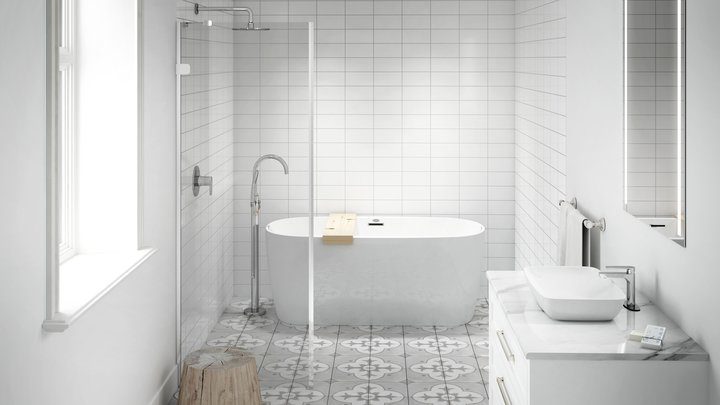 By the way, most housing experts agree that it's a good idea for resale to have a tub somewhere in a home, even if it's not in the master bath. If a family with very young children (or even pets) considers buying your house, a tub would be critical. 


Move Over Gray
Deep and dark and even pastel colors are popping up in top master bath trends. Glossy tile in saturated shades of green, blue and black is a fresh choice for walls or showers. The classic contrast of black and white has been a bathroom staple for centuries. Today, that contrast shows up in a range of ways: white tubs with matte black exteriors, black tile walls and white fixtures or floor tiles with black and white patterns. 




If you can't commit to too much color, an accent wall could do the trick. Whether the wall is behind the vanity mirrors, the backdrop to the tub or the shower walls, it can introduce contrast without overwhelming the space. 
Another one of today's top master bath trends is a shift to darker hardware. You'll notice faucets, shower heads and cabinet hardware in deep pewter and matte black. As with many home trends, the opposite holds true, too. Where jewel-toned tile is used in a bath, gold hardware is a popular choice.   
Lighting and Tech
Today's modern master baths feature lighting that's streamlined, unlike the ornate crystal chandeliers that were once standard in luxury baths. Filling the bathroom with light is always a good idea. From recessed lights to wall sconces, task lighting at the vanity and hanging pendants, layers of light that are dimmable will make your master bath even more delightful. Don't forget about making a connection with the outdoors. Some designers are opting for windows placed near vanities to provide natural light.
You might see the master bath as your refuge from technology, but smart home upgrades can do everything from pre-setting shower temperatures to automatically cleaning toilets to displaying the local weather forecast on your bathroom mirror. Even if you don't want to include every new gadget, keep an open mind to innovations that could elevate your master bath.


Top Master Bath Trends for You
Whether you want to follow the latest trends or prefer timeless, classic style, your master bath can be a lovely place to start and end your day. What would your dream bathroom look like? We would be happy to hear about your ideas. Contact us today to schedule a no-obligation custom home consultation.