White subway tiles will always be a timeless classic, but there's so much more to discover when you open your options for custom home tiles. From glass to porcelain to handmade ceramic, you can find a tile material, shape and color for every space in a new home. 
Our selections coordinator, Laura Trapp, snapped a few behind-the-scenes, in-process photos at one of our current construction projects. These clients and their designer pulled out all the stops in terms of tile style. Take a look: 


Putting the "Pow" in Powder Room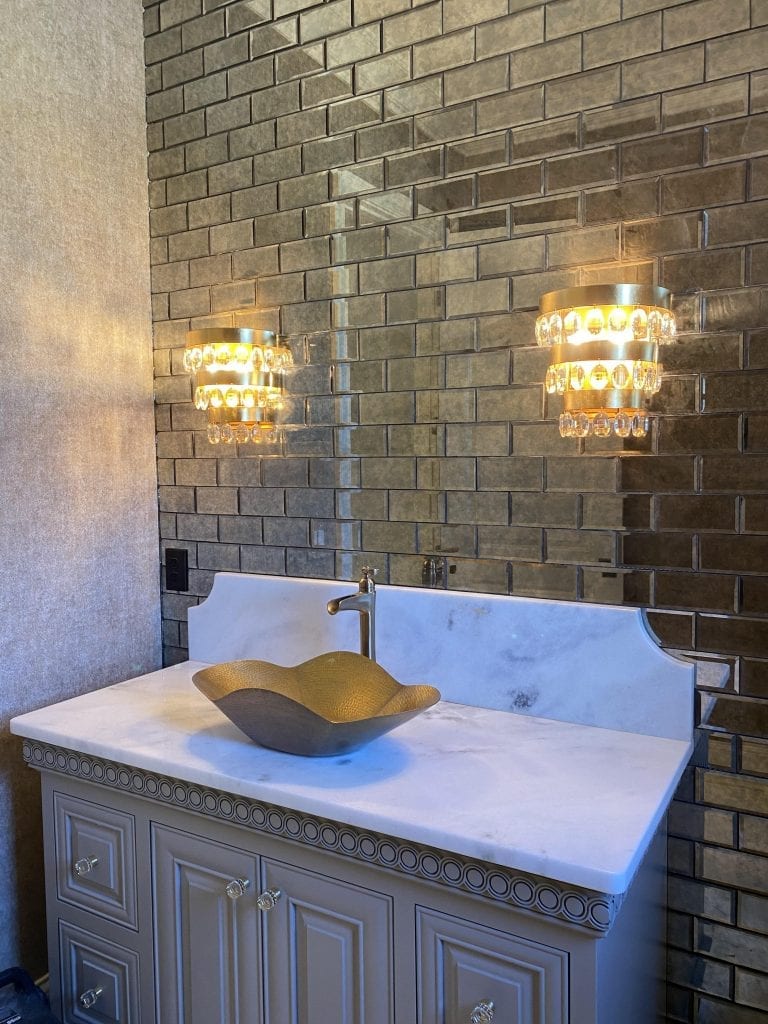 The home's formal powder room sets a glam tone. Luxe mirror tiles stretch from floor to ceiling behind the vanity. These Amalfi Antique Mirror beveled glass tiles ooze Art Deco appeal with a unique antiqued pattern. Guests will definitely remember this powder room.
Classic, but on-trend, too, these custom home tiles come in a range of colors and are available at The Tile Shop. A metallic basin and shimmering sconces make this powder room even more posh.


The Color of Water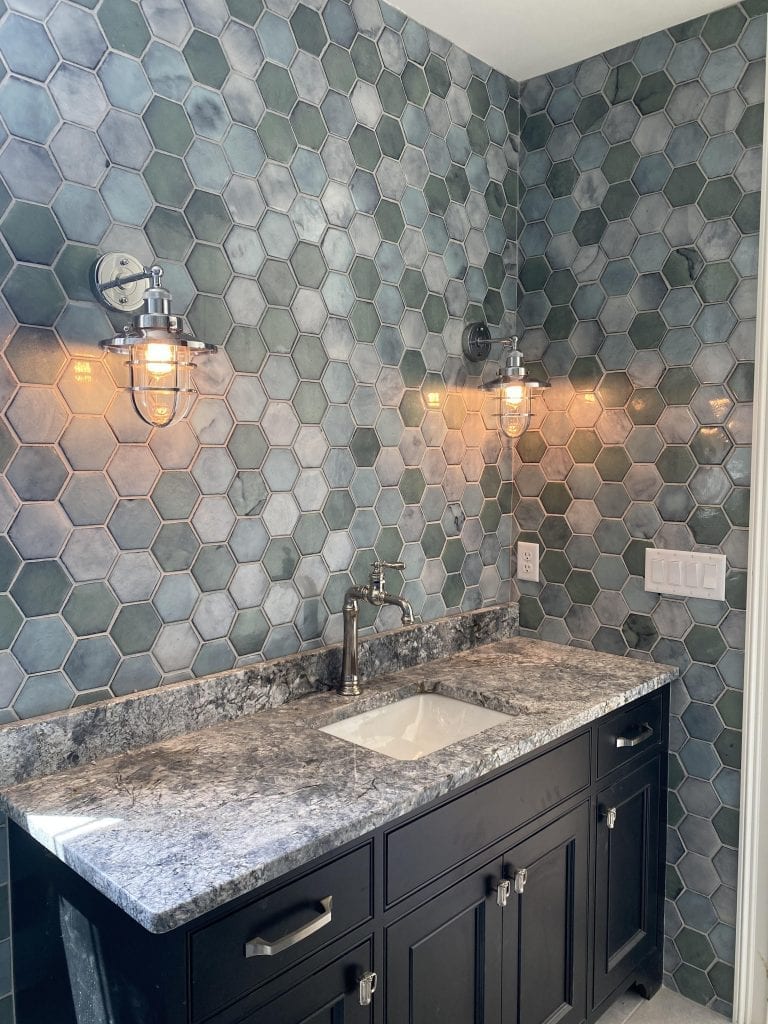 In the home's pool bathroom, hexagonal stone tiles in watery hues look soft and calming. With a modern, organic feel, these Tempered Collection Fog Blend tiles are made from natural sandstone. Sconces with a nautical attitude and dramatic dark cabinets are perfect accents for this bath adjacent to the pool area.
Part of the Erin Adams Collection, the resin-coated tiles are perfect for a range of surfaces, from showers to kitchen. The company shows its Tempered Collection tiles in another colorway, called Stardust Blend, on a kitchen backsplash (below).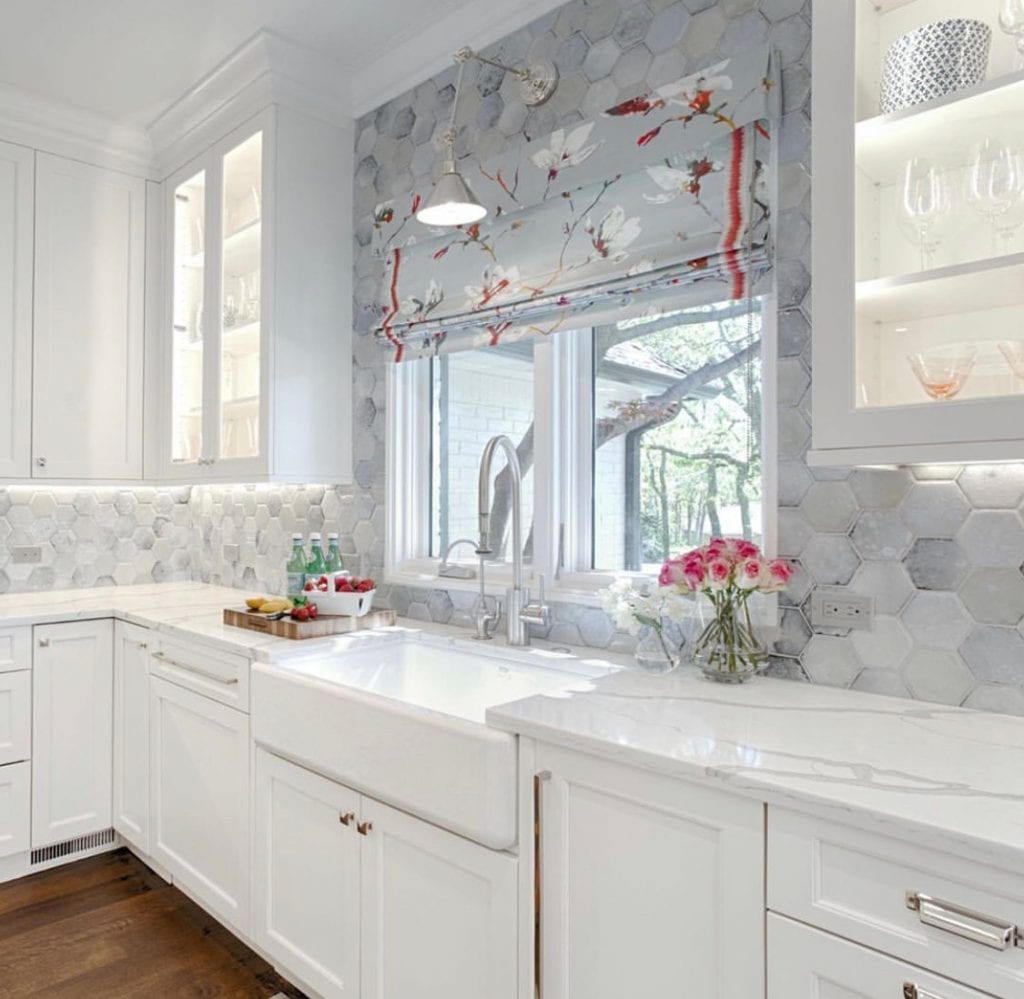 All the Marbles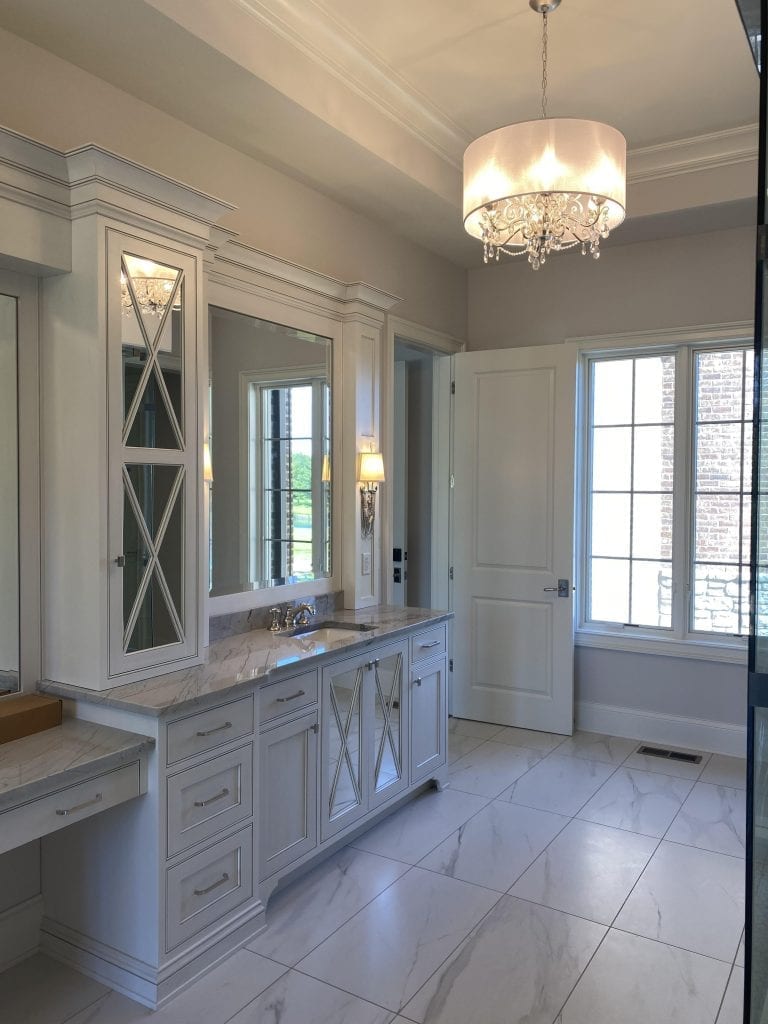 While the master bathroom tile floor might look like marble, it's actually made of polished porcelain. Part of the Mayfair collection by Anatolia Tile & Stone, these oversized floor tiles are sophisticated and versatile.
In the shower, the clients chose arabesque shaped tile (below) from the same line for a unique accent. This lush marble-inspired color and pattern are called Volakas Grigio.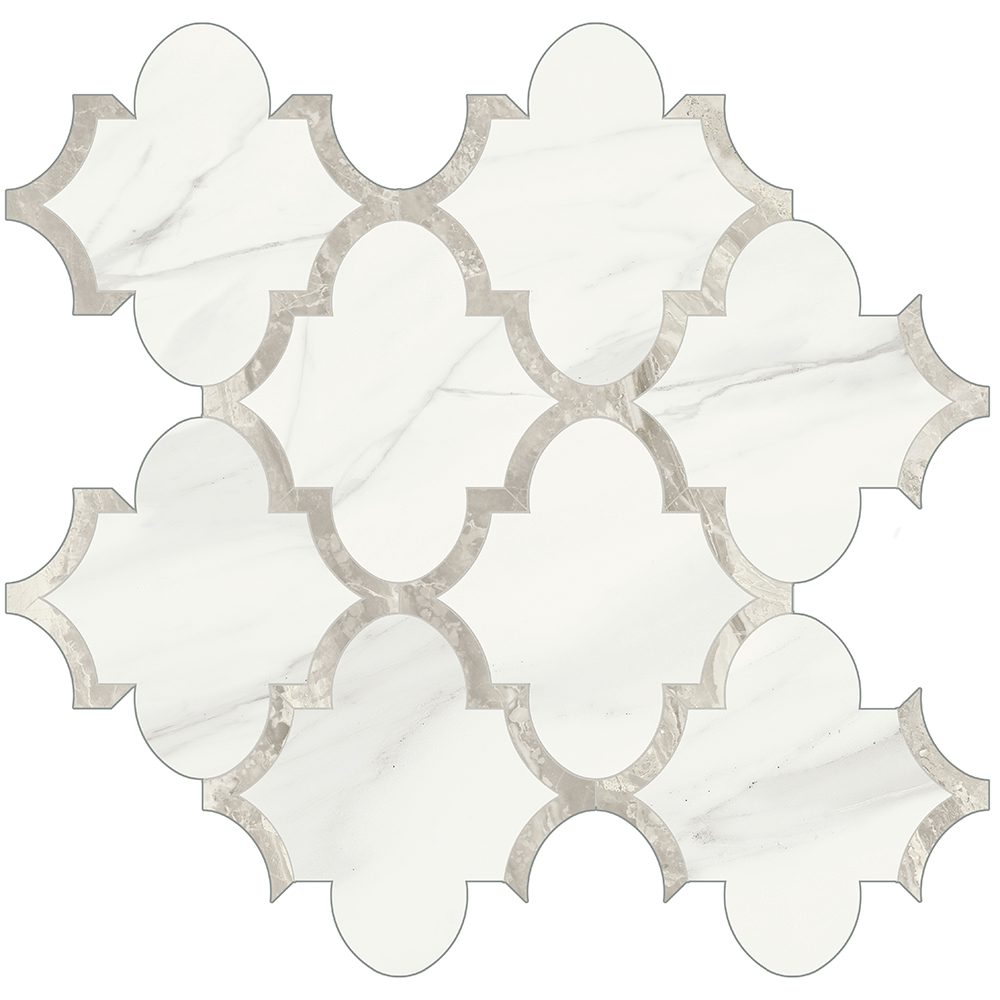 Jazzy Like Gillespie

Rich color and shine make the family powder room a jewel box. Part of Artistic Tile's Jazz line of glass tiles, this Tuxedo Park mosaic of petite, elongated hexagon tiles in Gillespie Green offers deep color and an intricate feel. A mirror that combines gold with a trendy floating acrylic frame reinforces the mood.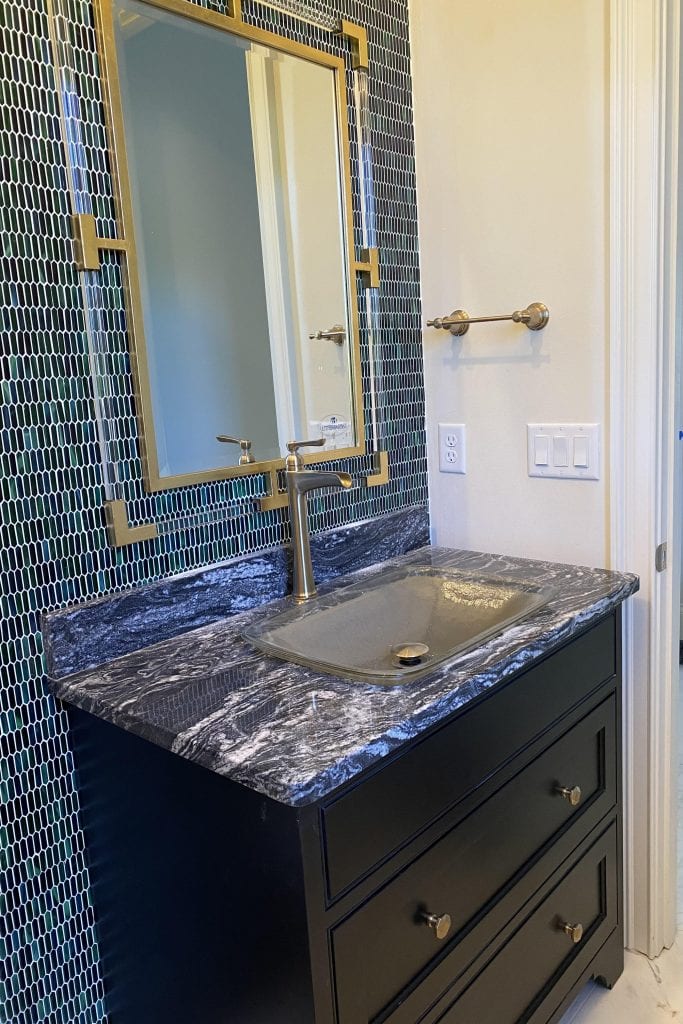 Along with Gillespie Green, Artistic Tile offers this mosaic in a subtle white and gray mix and Bugle Blue, a combination of indigo shades from light to dark.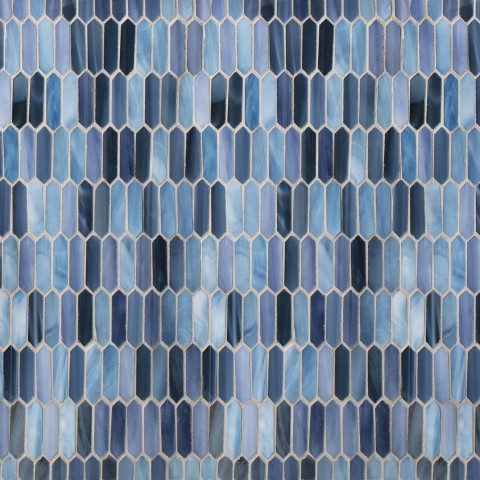 Hip and Square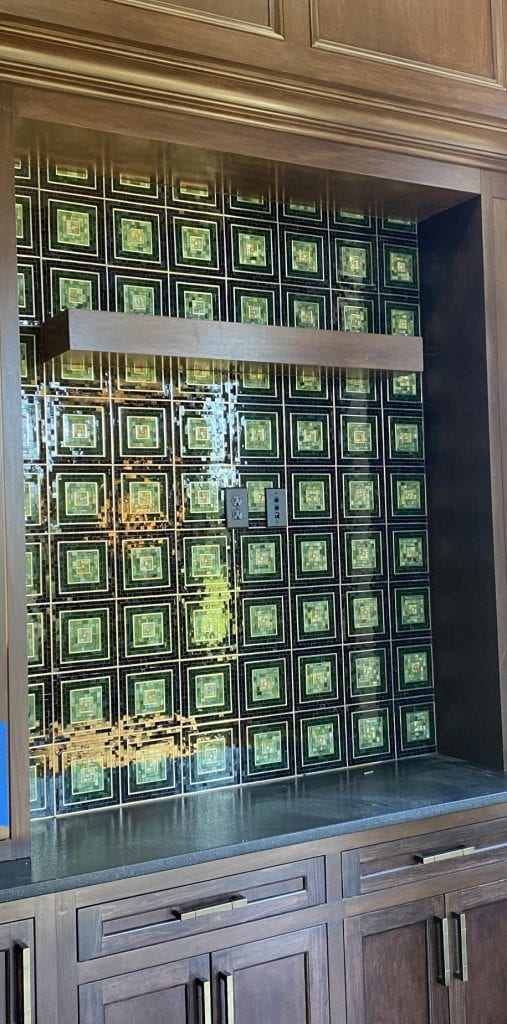 Another creation in Artistic Tile's Jazz glass series: The Hip 2B Square glass mosaic brings a splash of personality to the library's bourbon bar. Brass inlay adds sparkle to the design, which resembles pyramid steps or a cascading fountain. Artistic Tile calls the look "a bit retro, a bit contemporary and overall totally unique." Like the rest of the home, our clients can't wait to see this space completed and ready for move-in.
Inspiration for the home bar came from seeing the Hip 2B Square mosaic in this glowy and oh-so-chic bar. Not a fan of green? The tiles come in shades of blue, as well.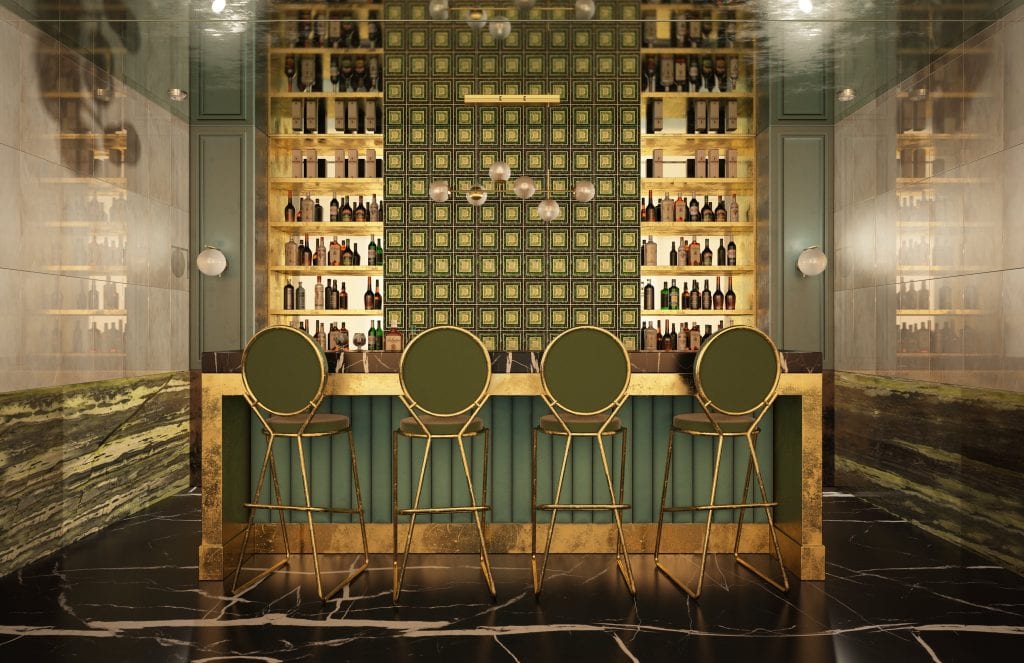 Custom Home Tiles Are Just One Detail
When you set out to build a custom home, you can bring in all your favorite finishes, from flooring to countertops to custom woodwork. We are happy to help you define your custom home vision and bring it to life. Contact us today.
---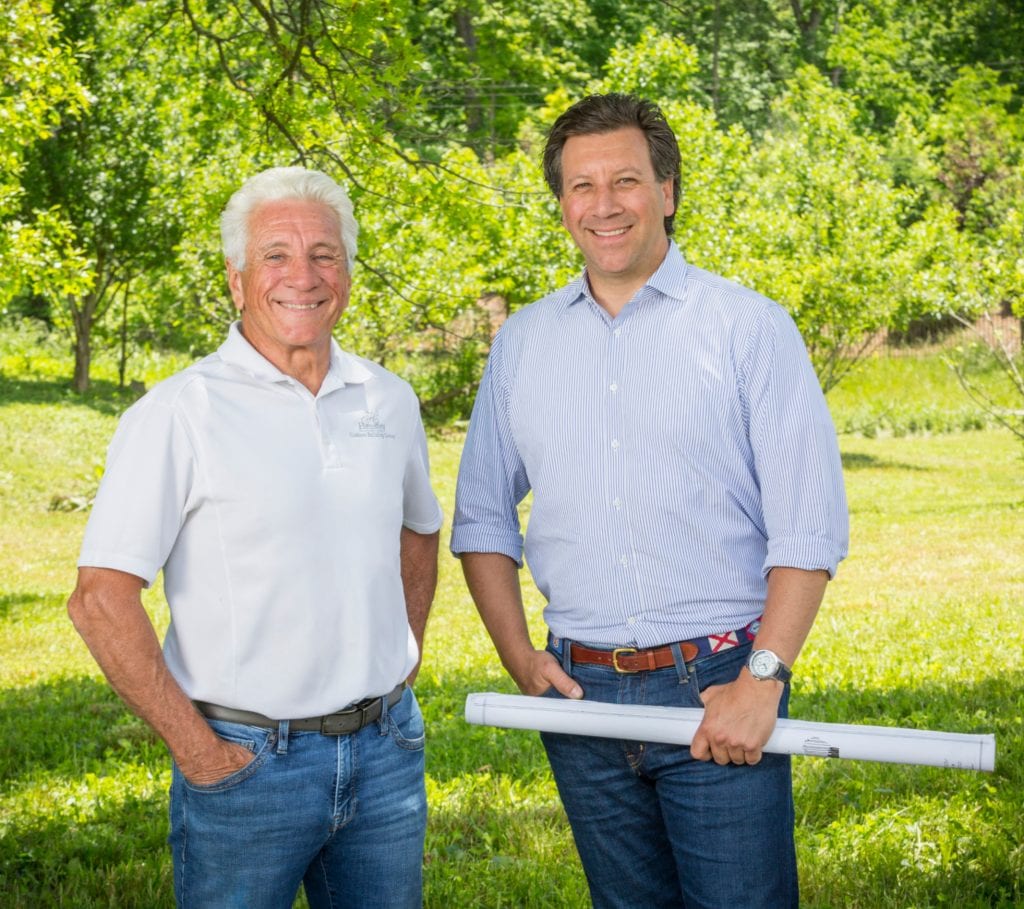 Ready to Join Over 400 Happy Cincinnati Custom Home Builder Clients?
Contact us to start your dream home conversation. From choosing the right lot to building the home of your dreams, we have helped over 400 families build what matters. Contact us to schedule an appointment.