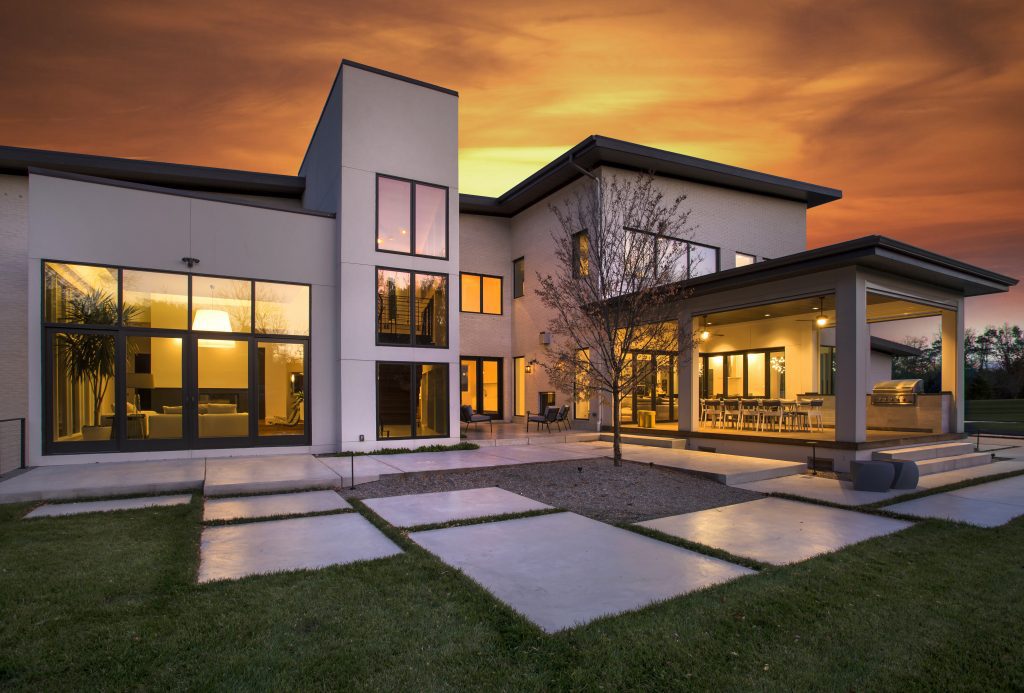 More and more custom home clients are loving the look of contemporary style homes. Clients searching for a contemporary custom home builder in Cincinnati are likely drawn to sleek and simple designs. Although "contemporary" means different things to different people, here are some hallmarks of the style:
Windows and Lots of Them!
Many contemporary style homes feature walls stacked with large windows that often have a spare, minimalistic look. These windows give the room a light and airy feel as they typically have glass that's uninterrupted by grills. The trim is usually thin and black. Instead of traditional double-hung windows, contemporary design may include windows that slide open. Skylights are also seen often in contemporary style homes. Fussy drapes and curtains are replaced with sleek blinds or shades.
Open Floor Plans
Following the light and airy feel of the windows, contemporary style homes often have open and spacious floor plans. Great rooms and high ceilings are common. Look for built-in storage that helps maintain the uncluttered look of contemporary homes and adds to their minimalistic theme. Floors are typically not carpeted wall to wall, exposing bare, clean wood and tile.
Exterior Details
High-end, functional outdoor living spaces are very typical for contemporary style homes. Outdoor fireplaces and fire pits are featured as well as furnishings that complement the sleek style of the interior. The outdoor living spaces are meant to flow easily from the house, blurring the line between indoors and outdoors. Contemporary homes often have flat or uniquely angled roofs that add some geometric depth to the design.
Sustainability
Contemporary homes often feature eco-friendly, sustainable features and appliances. They might have solar roofs, use green air conditioning and heating to conserve energy and save money, or use natural, repurposed materials like bamboo flooring or cement countertops.
Simplicity and Minimal Decor
Along with the minimalistic theme, many contemporary homes follow a monochromatic color palette. Main statement pieces like signature art, lighting or plants are typically used to draw your eye to one focal point of the room instead of many. You will find more neutral, earthy colors like white, gray, navy, tan and black opposed to bright or even pastel tones. Sleek, clean lines are also a staple of contemporary homes and you can find them in the cabinetry, stair railings and fireplace surrounds.
Looking for a Contemporary Custom Home Builder in Cincinnati?
Look no further. Hensley is an award-winning contemporary custom home builder with decades of experience in Cincinnati, and is prepared to bring your contemporary home vision to life. Contact us today to get started on your dream home.