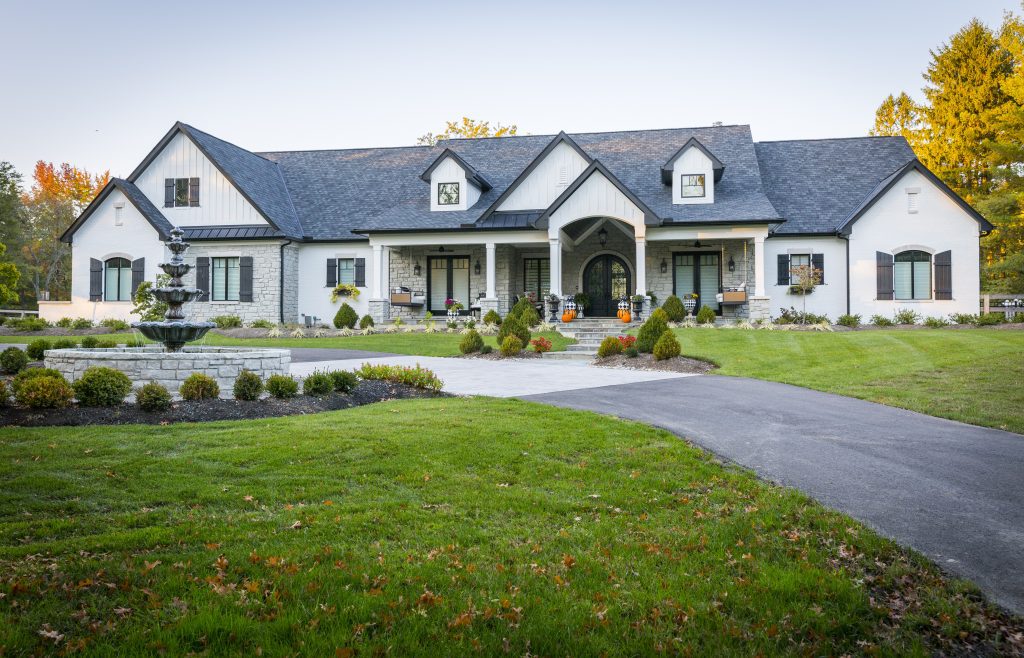 When you envision your dream house, empty nester home or "forever" home, are you picturing a ranch? You're not alone: Today's ranch home design trends have elevated this home style way beyond previous ranch houses that may have been practical, but not always inspirational.
With a custom design/build project, your dream ranch home awaits you. Imagine warm-toned walls and soaring ceilings, cozy interior and exterior lighting and a plethora of luxury elements. Although ranch home designs can elicit a classic feel, they can also be entirely modern and sophisticated, utilizing advancements in technology and interior design.
Here at Hensley Homes, you can work with our team to create a single-story home that's suited just for you and your lifestyle. The benefits and customization options of these homes prove that these aren't your grandma's suburban ranch styles.
Here are a few of the ways you can add charm to your life with a ranch home.
Convenience and Comfort
With ranch home design, everything you need can be conveniently located on a single level. Embrace the ease of living that comes with having all your spaces on one floor, and cherish the comfort of your prized possessions being constantly in your close proximity.
No matter what your age or physical ability, cutting out the stairs can be a relief and a comfort, especially when it comes to doing laundry, carrying in groceries or trying to keep a pet or small children safe at home.
Soaring Ceilings and Indoor-Outdoor Living
Another ranch home design advantage is the ability to include vaulted ceilings in your main living areas and master bedrooms. You'll notice an open and airy atmosphere, making your home feel even more inviting to guests and loved ones alike. Our clients often choose to highlight soaring ceilings by adding wood beams and timber trusses.
Unlike in multi-story homes where bedrooms may be located upstairs, ranch home design allows for seamless access points to outdoor amenities, such as pools or hot tubs. Imagine being able to go directly from your master bedroom suite to a private patio or pool deck. With this constant access to the outdoors, you'll find that entertainment and relaxation will go hand-in-hand.
Enhanced Accessibility: Universal Home Design
We believe it's important that a home is welcoming to all, no matter the age or ability of any loved one or guest. With ranch home design, you can incorporate universal design concepts, including very few level changes and wide hallways for easier access.
Comparatively larger bathrooms can easily and comfortably accommodate a wheelchair or walker, if needed. You can feel at ease knowing that your home is accessible for all stages of life.
Ranch Home Design: Excellent Examples

Modern and Luxurious
With a light interior boasting warm embellishments and flooring, Timber Ridge offers a country-modern home feel. This beautiful home also features a luxury outdoor space with a fireplace and kitchen, blending indoor and outdoor elements seamlessly.
Designed for Entertaining
The perfect entertainment hub, Stonelake showcases indoor-outdoor living on the main level and highlights another benefit of today's ranch homes: the ability to create comfortable and desirable finished lower levels. This home's lower level is complete with a wine cellar and even a golf simulator. Its space that offers endless options for fun and quality time with friends.
Pretty and Posh
A picture of relaxation and comfort, a ranch home can feature luxury spaces like spa baths, a premium laundry room with a dog wash or private, lower-level bedroom and bath suite perfect for a college-age child.
Ranch Home Design Upgrades
Look up: With a ranch home design, it's easy to make ceilings truly special. At Rose Mallow, a barrel vault adds unique character to the kitchen, while other areas of the home feature wood trusses.
Need Hensley's Help?
Has one of these homes caught your eye, or are you looking to create your own ranch design oasis? Contact us, and we can chat about next steps in your journey.