Whether you're hosting a Super Bowl or Oscar night … or just spending a weekend binge-watching Netflix, the perfect home theater design can add to the fun.
Our custom home clients typically include a home theater or media room on the lower level of their home. These rooms serve as great spaces for gathering friends, entertaining kids or date nights.
Home Theater Design Basics
Here are a few things to consider as you design your home theater:
Eliminate windows, if possible. They can cause glare and light that disrupt the viewing experience.
Match the screen size to the room.
Explore options for audio. A home theater professional can guide you in making good choices
Add carpet, drapes or upholstered furniture. These materials keep sound from bouncing around too much.
Choose seating that works for you and your crowd. Will the room be mostly used by kids? Sports fans? Just the two of you?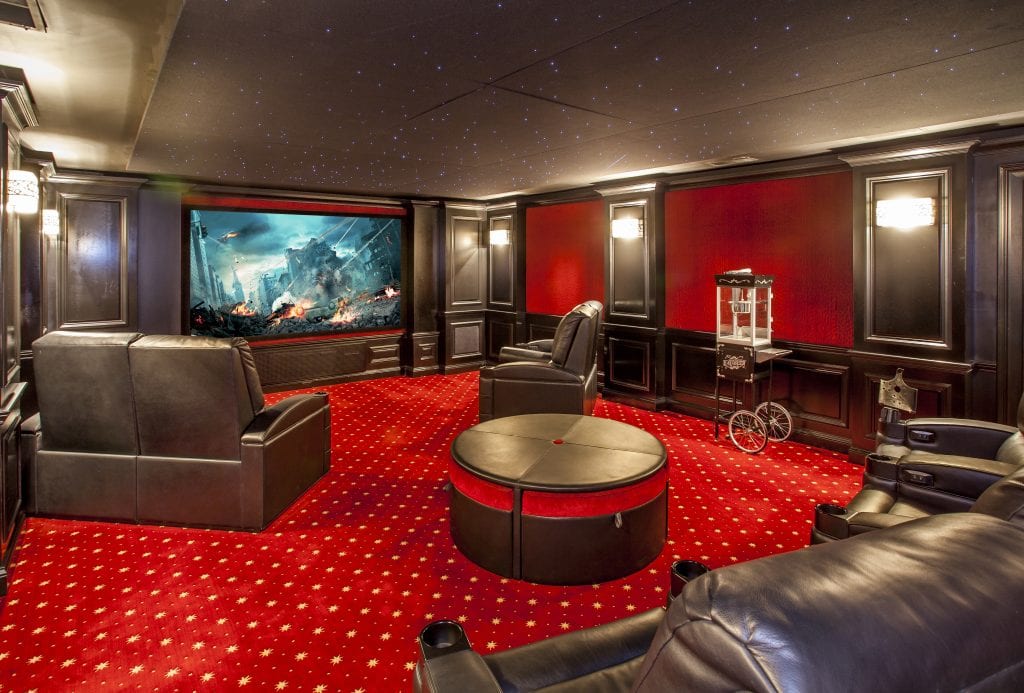 More Creature Comforts
A perfect movie night or game day calls for a great supporting cast. Home theater design can also include amenities like a nearby kitchenette or bar. An adjacent restroom means you won't miss important plot points or touchdowns.
A more open floor plan near your home theater area will allow some folks to talk or eat while keeping an eye on the screen, but not distract those who are watching more intently. Another idea is to add a billiard table or other games to the area, too. Be sure to consider how the lighting in these other spaces might affect the screen.
Location, Location
Another factor to consider is where to place your home theater in relation to other parts of your home. If the home theater is directly below your master bedroom, will too much sound filter up? Again, adding those soft materials to the media room space will decrease the chance of noise traveling too far.
Another thing to consider is an outdoor media room. With the addition of an outdoor screen and comfortable furniture, your new favorite place to watch just might be outside.
Get Inspired
We've worked with hundreds of clients on home theater design and would love to hear about your ideas. Contact us for a brief phone call on your project. Also, you can here for more inspiration courtesy of HGTV.