Hensley Homes specializes in using intricate detailing to set our homes apart. For Hensley clients, custom woodwork is a "must have." Without these special details, a house can just look flat.
So what does "custom woodwork" mean? You might hear it referred to as "millwork," "paneling," "trim" or "moulding". To help ease confusion, we've created this guide to wainscoting, judge's paneling, ceiling details, trim and custom woodwork.


Wall Treatments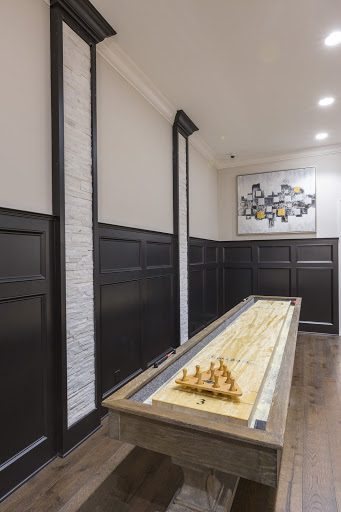 Judge's Paneling is a decorative treatment added to walls to create a three-dimensional surface that catches the eye. It's also found on doors and some furniture as well. Traditional paneling consists of wide sheets, called panels, framed by narrow strips of dimensional wood. Its popularity as decoration started in the Gothic period in Europe. Our trim carpenters can create a wide variety of looks with paneling. Some panels have a plain design, while others are more elaborate. Our custom Indian Hill Home, the Magnolia (shown above), features beautiful paneling and woodwork throughout the house.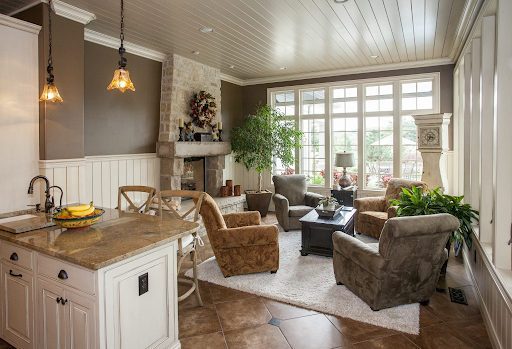 Wainscoting is a type of paneling typically applied to the lower portion of a wall, such as below a chair rail in a dining room. There are three parts to traditional wainscoting: baseboard molding, walls panels and a chair rail. The panels can be made of shiplap, beadboard or board and batten. You can see beadboard wainscoting in our Stonewood home (shown above).
Board and batten features alternating wide and narrow boards. The smaller boards are called battens. We can set the boards in horizontal or vertical patterns. This type of trim, first used on log houses and barns, was brought to America by the colonists to save lumber and protect their houses from the elements. We use board and batten mostly as an exterior finish.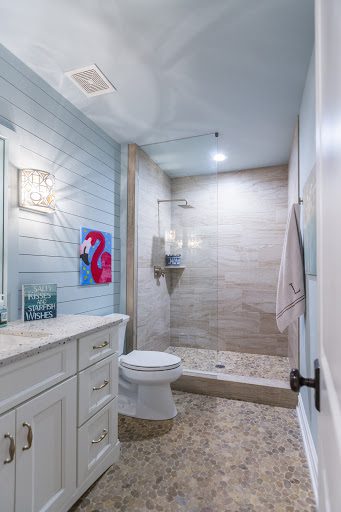 Exposed shiplap or tongue and groove (shown above) has been gaining popularity in recent years thanks to celebrity designers falling in love with its casual look. To create a shiplap design, we line a wall with wooden planks, leaving a narrow gap between the boards. Traditionally, shiplap planks had a long vertical groove that allowed them to fit snugly together. Thanks to this interlocking design; the first use of shiplap can be dated back to Vikings who used it to keep their ships watertight. You might see shiplap on the exterior of vintage barns or sheds. One of our favorite shiplap projects was done with painted boards to give this bath at Winding Cape Way a beachy, coastal vibe.


Ceiling Trim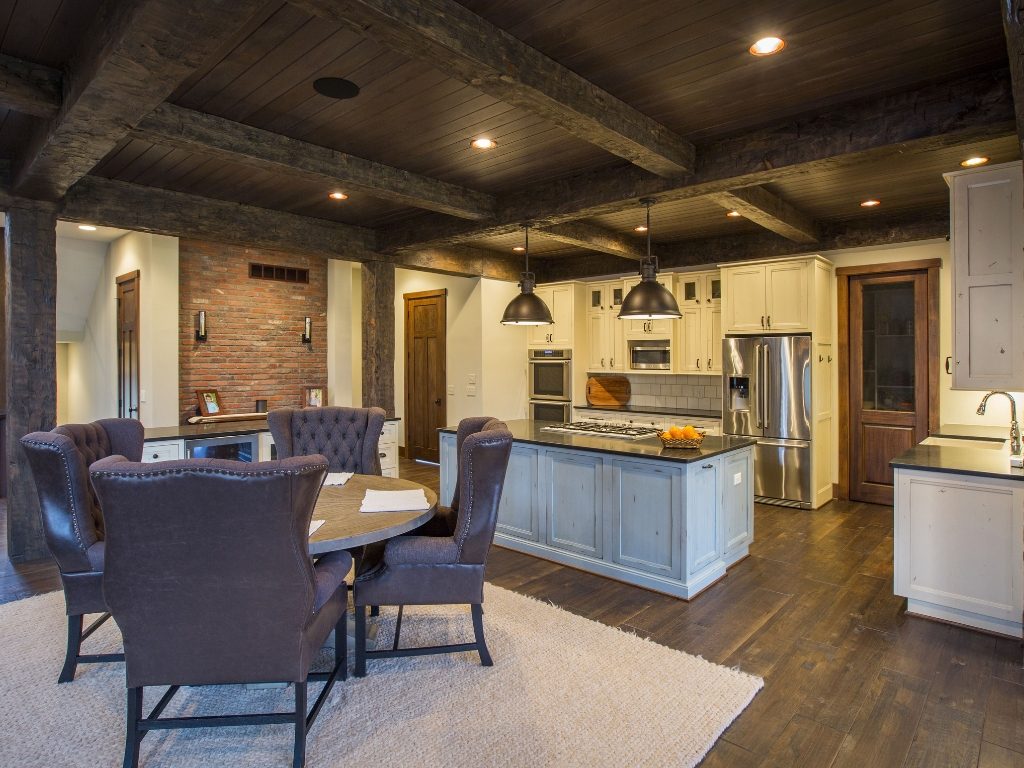 Wood ceiling beams direct your eye upwards and give ceilings character and visual interest. They typically span the width of the room. Additionally, boxed beams can be used to hide ducts or wiring. Beams are the most effective in rooms with taller ceilings. We incorporated dark trim and beams into almost every room of the Lodge at Lynnewood (shown above). This rustic beauty shows several ways to use custom woodwork.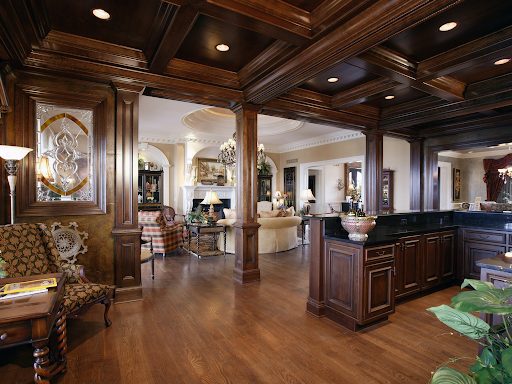 Coffered ceilings use beams to create square or rectangular patterns. The panels between the beams appear recessed, creating an inset look. This pattern can improve the acoustics in a room. The design has been highly regarded for ages; coffered ceilings can even be found in the Palace of Versailles and the Pantheon. Coffered ceilings in dark wood tones are a highlight of the custom woodwork in our Brighton Manor home (shown above).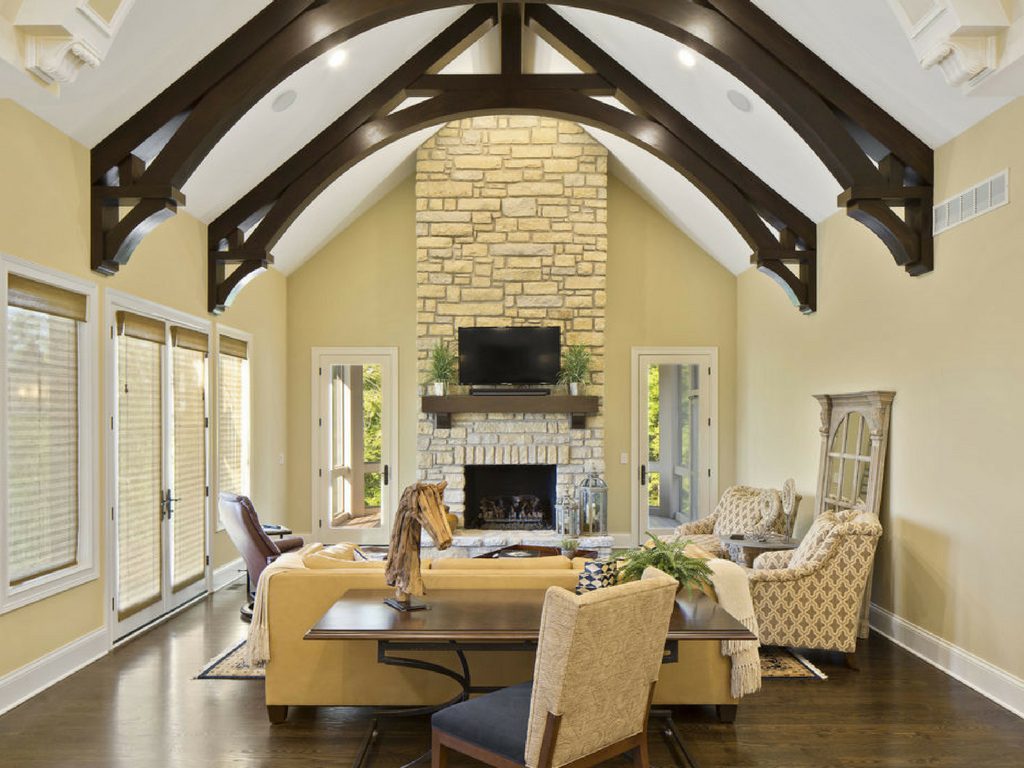 Wood trusses are different from beams, in that they have a distinct triangle shape. Trusses can be simple or intricate, and run from the ridge of the ceiling to the top of a room's walls. A good rule of thumb is to have six to eight feet between each truss. If not purely decorative, they can provide structural support. For even more character, we can add accents, such as corbels and post brackets, to trusses. The family room of our Rose Mallow home (shown above) features dark, eye-catching trusses.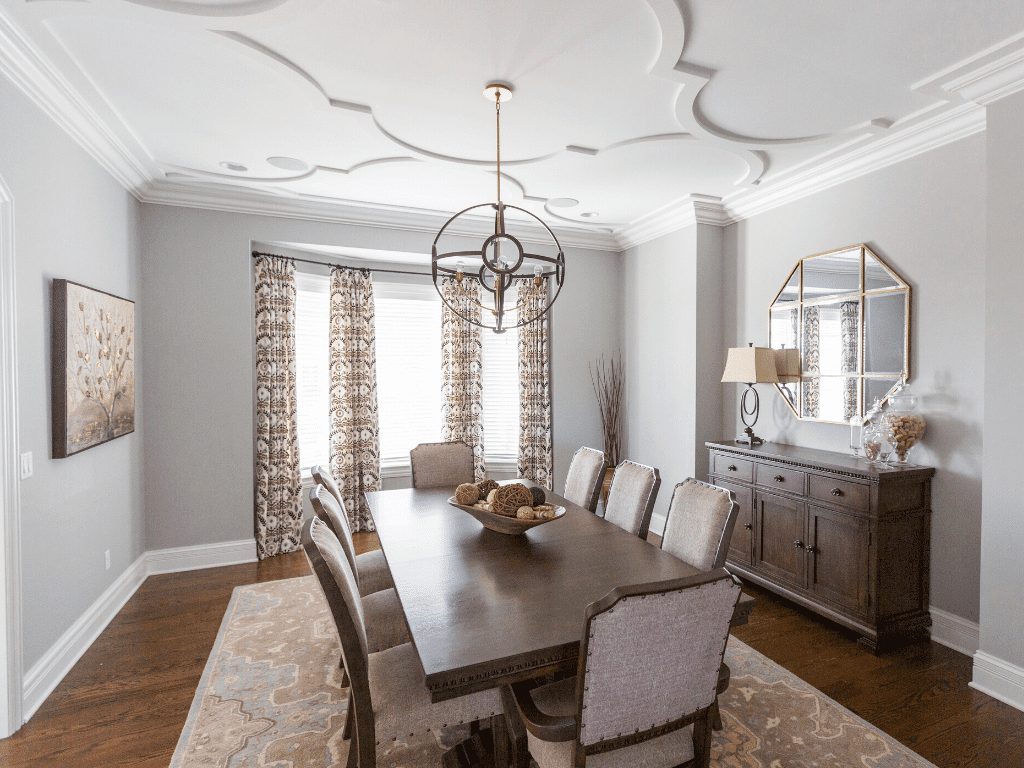 Count on decorative moulding to add beautiful detail to ceilings. Two popular types of trim are crown and cove moulding. Crown molding covers the transition from wall to ceiling. Cove does the same, but it has a simpler, rounded design. On the other hand, dentil moulding is more ornamental, consisting of repeating, evenly-spaced blocks at the base of crown moulding. Bead and pearl patterns can also accent crown moulding. Look for small repeating spheres along the top edge of the moulding. Ogee styled moulding consists of an S-shaped piece of wood. It is most often found with crown moulding but sometimes at the baseboard. You can see an example of decorative moulding on the dining room ceiling at Winding Cape Way (shown above).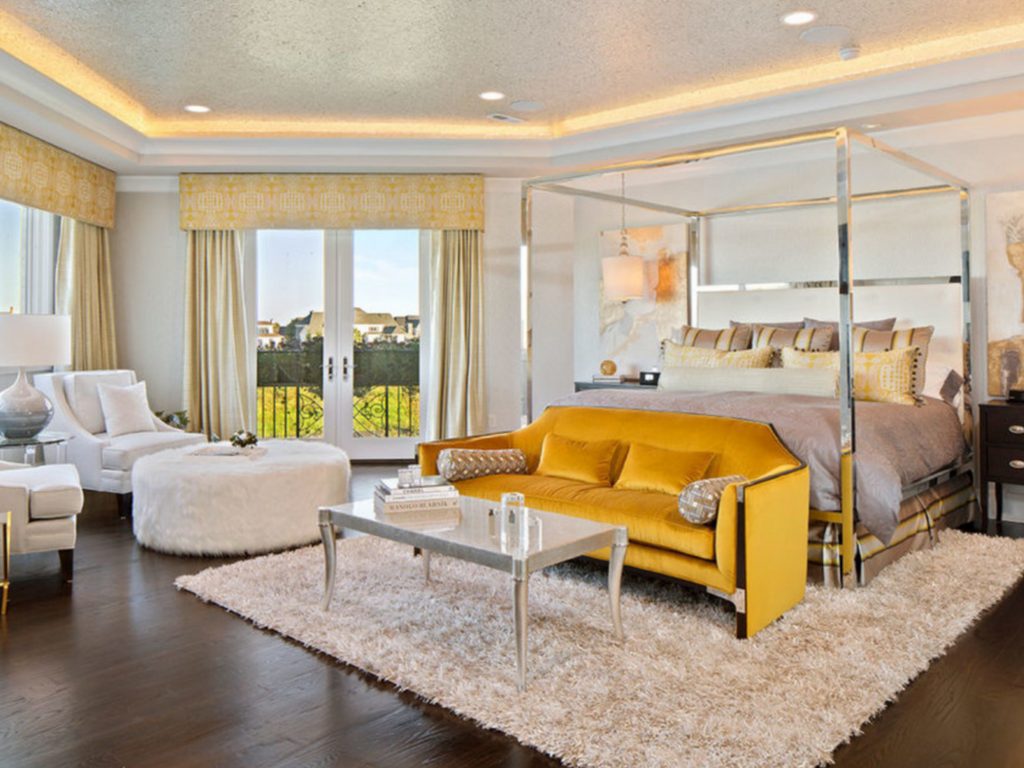 A tray ceiling is also called an inverted or recessed ceiling. The center of the ceiling is higher than the perimeter by a few inches or several feet, depending on the look you are going for and the available space. This style gives the illusion of taller ceilings. Hanging a fixture such as a light or chandelier in the center of the concave portion will catch the eye of anyone who walks in. Also, more height can be added to the ceiling with color; choose a darker paint for the center section to create this effect. You can add trim or moulding to the edges of this style of ceiling for a more elaborate look. Adding cove lighting to a recessed ceiling, like we did at the South Shore home (shown above), makes the tray even more noticeable.

Types of Wood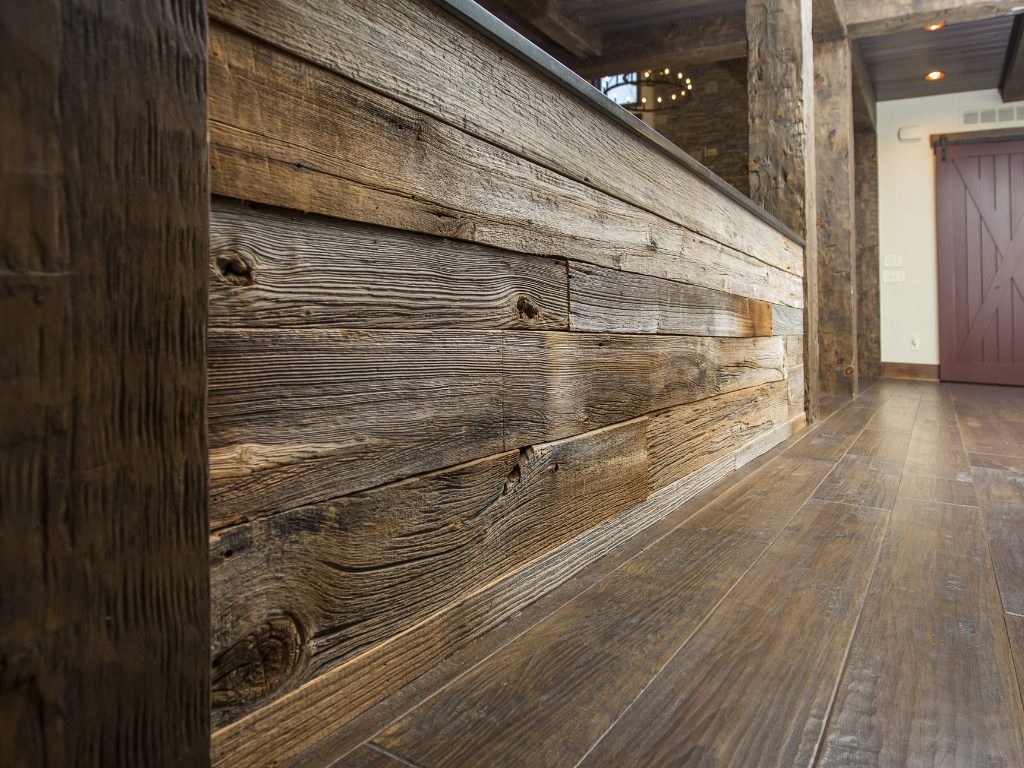 Reclaimed wood is old wood that is repurposed. Consequently, salvaged wood is environmentally friendly; it gives a building material second life. Reclaimed wood offers rich color because its aging brings out its natural tones. Suppliers can control the appearance of reclaimed wood with planing or distressing, which can make it look modern or rustic. Bringing old wood into your house can add charm and character to a new build. 
Barn wood (shown above) is rough, sturdy and can come from a barn or other old building. As with reclaimed wood, the distressed surface can show signs of wear. The planks' natural color variations are perfect for accent walls, beams, sliding barn doors and even furniture. Barn wood can be brought inside or used on a home's exterior. Read more about options for using barn wood in your home.


Custom Woodwork for Your Home


Hensley Homes is proud to offer our custom-home clients specialty trim and woodwork. Custom ceiling treatments and wall detailing are just one element of the exceptional services we provide for our customers.
---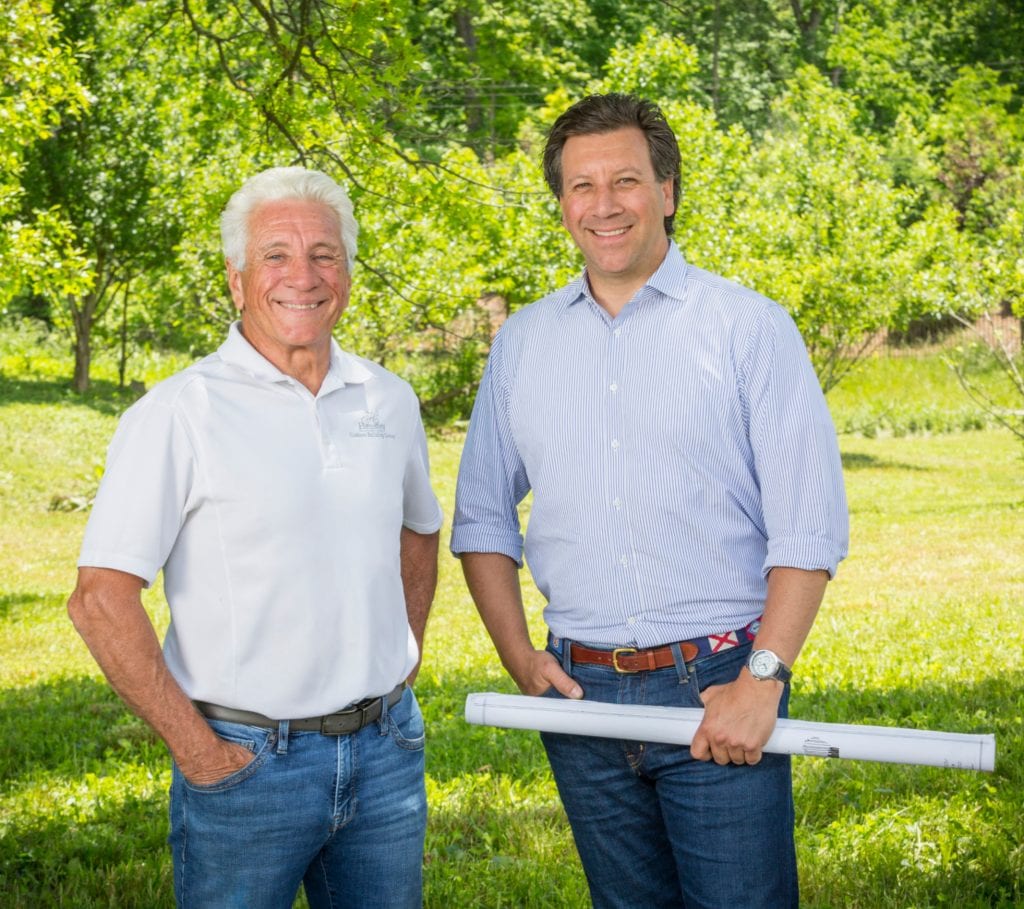 Ready to Join Over 400 Happy Cincinnati Custom Home Builder Clients?
Contact us to start your dream home conversation. From choosing the right lot to building the home of your dreams, we have helped over 400 families build what matters. Contact us to schedule an appointment.